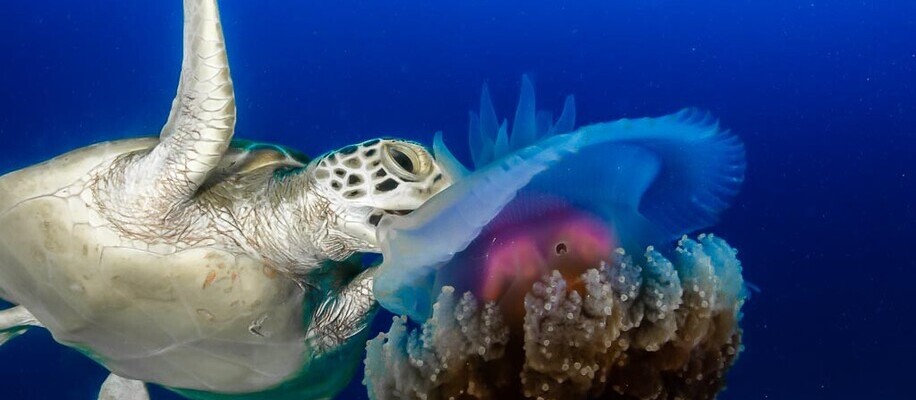 Minke Whale Expedition - Great Barrier Reef
13-19 July 2023 From $3795pp
Swimming with Minke Whales on the Great Barrier Reef will be an incredible experience! Picture the moment when these big, beautiful whales slowly approach you and glide gracefully past. As you come eye to eye with these amazing marine creatures you'll realise just how privileged we are to share the ocean with them! What an opportunity!
Every winter Minke Whales travel through the Great Barrier Reef and this is the only location in the world where it is possible to dive and snorkel with them. We have been lucky enough to secure an exclusive live aboard charter with Mike Ball Expeditions during the height of the Minke Whale season. Whilst the focus of this trip is visiting areas of high Minke Whale activity we also have plenty of time to dive and enjoy the spectacular Ribbon Reefs and dive. This entire trip will be a truly magical experience and will be completed with a low level flight from Lizard Island across the reef back to Cairns.
Minke expeditions are suitable for both snorkelers and scuba divers. The close-up whale action combined with excellent winter visibility on the Ribbon Reefs makes for great diving. A code of practice is in place to manage safety for both divers and whales, providing the maximum opportunity to see whales at very close range while ensuring the whales interact on their terms. Most diver and whale interactions occur while snorkelling.
The itinerary is dictated by the whales, visiting areas of high Minke activity and our key dive sites. The number of scuba dives advertised is the approximate number of dives provided but may vary to enable our whale-focused itinerary. Since commencing Minke Whale Expeditions in 1996 Mike Ball Charters have had a 98% success rate. The largest pod seen was 28 whales, the longest encounter was 10 hours. Every day has a high probability of whale encounters. If we are not able to locate whales at our usual sites, up to two hours at a time is spent searching for whales further afield. If none are sighted, we will dive as many of the Ribbon Reef sites as possible including the famous Cod Hole which is home to human size, inquisitive and friendly Potato Cod who can be hand fed
The Whales
Dwarf Minkes whales grow up to eight metres in length, weigh several tonnes and are very inquisitive. An average interaction consists of 2 – 3 whales for approximately 90 minutes. The largest Minke pod seen was 28 whales, the longest encounter 10 hours. However, Minke whales are wild animals and can be unpredictable!
Package includes:

Return flights ex Auckland to Cairns
Stunning Low level Great Barrier reef flight from Lizard Island to Cairns
4 nights Twin Share Budget Cabin ( Bunk beds Shared bathroom ) aboard Spoilsport - Mike Ball Expeditions
All meals, snacks, complimentary wine and soft drink with evening meal while onboard
Upto 12 dives whilst onboard Spoilsport includes tanks, weights and dive guide
2 nights Twin Share accommodation at the Pacific Hotel Cairns
Transfers throughout
( Please note flights are not able to be booked until 11 months out, flight costs can not be guaranteed until this point, please consider this package price as an indicative price, although we do not anticipate the price will change much.)

Cabin Upgrades
Club Cabin $370pp Bunk Beds | Private bathroom
Standard Cabin $680 pp Twin beds | Private bathroom | Ocean view
Premium Cabin $985pp Double bed | Private bathroom | Ocean view
Cabins subject to availability on a first come first served basis
This trip will sell out so avoid disappoint and secure your cabin preference by confirming your spot on this amazing adventure by competing the booking form and making a deposit payment of $600. Final Payment is not due until 2023!

Any questions email liz@divezonetauranga.co.nz
If you want to extend your time in Australia after this trip please discuss as it can be arranged.
Photo credits: Dive Adventures
Like to know more...
Here is a sneak peek of what you can expect on this trip!